World Class Memphis Hospitality
One need not look far to find people voicing their praise for the 16 soccer fields and 2,500-seat stadium that make up the Mike Rose Soccer Complex (MRSC). Former professional soccer players, referees, club presidents, and soccer players and fans of all ages have lauded the facility as a premier venue for hosting soccer matches at the local, regional, national, and international levels.
"Since its inception, MRSC has allowed soccer to flourish in Memphis," points out John Snyder, the President of Tennessee Soccer and Memphis Shelby Soccer Federation. "The complex has hosted local and regional leagues and tournaments, high school and college, and professional soccer for players ranging in ages from five to over 60. The local Memphis Shelby Soccer Federation league has grown from 80 teams to more than 180 during MRSC's 20-plus year existence."
Curt Rogers, the President of Greater Memphis Soccer Association, echoed Snyder's assessment. "The Mike Rose Soccer Complex has been a first-class facility and destination for soccer players and enthusiasts, not only for Memphis and Shelby County, but also regionally, nationally, and internationally," Rogers stated. "As a lifelong soccer player, referee, and current president of the largest adult league in the state of Tennessee, the facility has given our organization a place to call home, and allowed us to triple the number of participating teams in the span of a decade."
Honoring a Visionary
MRSC, a Shelby County Government-owned facility that is privately managed and operated by OS Memphis, is the realization of a dream of John C. Talley. As President and Founder of Shelby County Soccer Complex Inc., Talley organized the successful private/public partnership engineered by Memphis Mayor Jim Rout and philanthropist Mike Rose who himself raised construction funds in the amount of $2.5 million through corporate contributions, foundations and grants. The complex was named after Mr. Rose for his hard work in raising funds and for his generous private donations.
Though never a soccer player himself, Talley spent many hours on the sidelines cheering his sons, Carey and Clark, and daughter, Lindsey, and their friends in soccer activities. Talley worked with the local clubs, associations and Tennessee Soccer to coordinate participation at the complex.
While John Talley provided the inspiration and developed the business plan for the complex, his wife, Kim, brought her experience in business ownership to the venture. Working together as a team, they focused on creating a premier soccer complex in the Mid-South region.
They have done just that.
The complex and stadium were completed in 2001. "I was never fortunate enough to personally meet John Talley, but his impact will be felt for generations to come," stated Paul Furlong, Executive Director of Collierville Soccer Association. "MRSC is the epicenter for all things soccer in Memphis and the Mid-South. On any given night you will find thousands of local youth and adult soccer players from all backgrounds enjoying professional- grade facilities."
The 136-acre site includes 16 lighted playing fields that are FIFA dimension (115 yards by 75 yards) featuring hybrid Sports Bermuda grass. The fields have a drainage system to assure quick dissipation of water and a state-of-the-art irrigation system that guarantees a healthy stand of grass.
On site participant facilities include showers and locker rooms, a food court, corporate skybox, full media services, administrative offices, and a conference room. The family-friendly atmosphere is underscored by shaded pavilions, a picnic and recreation area, and a three-acre lake.
The completion in 2001 of the 2,500-plus seat stadium was the crown jewel in the complex, and helped cement MRSC's reputation as among the premier soccer complexes in the country. MRSC now hosts 20 events annually with approximately 700,000 visitors a year.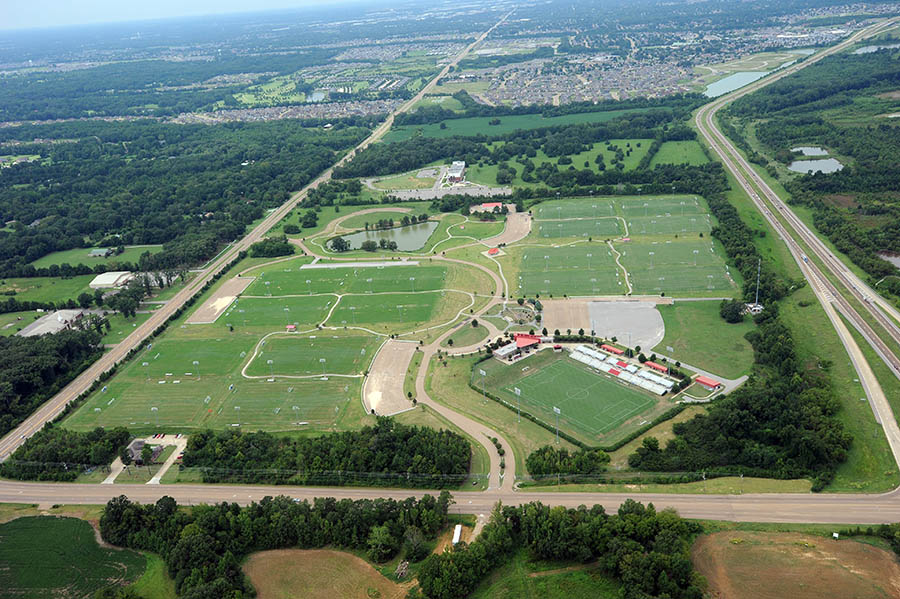 An Impact Felt Far Beyond the City of Memphis
As a major Mid-South transportation center and home to the world's second busiest cargo airport, Memphis has developed a robust local economy anchored by numerous major business and industrial operations, including three Fortune 500 companies. MRSC has joined them in helping fuel the local economy.
"The economic impact of MRSC can be valued in the tens of millions of dollars," Paul Furlong noted. "It has become a magnet for teams traveling from across the country and around the world to participate in youth soccer tournaments. This would be impossible without John Talley's foresight some 20 years ago."
Talley's contributions continue to be felt even after a brain tumor took his life at age 46. His wife and children established the John C. Talley Neurological Research Fund for brain tumor research at Le Bonheur Children's Hospital. The organization's charity soccer match fundraiser and golf tournament have now raised in excess of $300,000.
Rene Bustamante, Western District Director, Tennessee Soccer Association, is among many who point to additional contributions that MRSC has made. "The impact the Mike Rose Soccer Complex has had on the City of Memphis, Shelby County, and surrounding areas cannot be measured only in goals scored, wins and losses, or tournaments played there," he explained. "It can also be measured by how it has changed the lives of thousands who have built, maintained, worked, coached, played, loved, and enjoyed its soccer fields."
John Talley's life and legacy are proof that good can come from tragedy. As Kim Talley points out, "The tremendous support of the Memphis soccer community, the lasting relationships formed, and helping the children at Le Bonheur are a celebration of John's life."