The Salt Wagon Story
Meharry Medical College traces its roots back to the 1820s when a black family in Kentucky, recently freed from bondage, risked their freedom to show an act of kindness to a 16-year old white boy. Samuel Meharry's wagonload of salt slid off the road into a muddy ditch. The family gave the young boy food and shelter for the night and helped him lift the wagon from the mud the following day. So deeply moved was Meharry by the family's help that he vowed to repay that act of kindness when he could.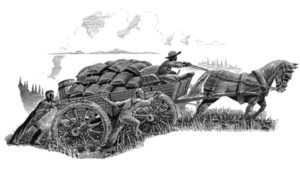 And he did. Fifty years later, Meharry and his four brothers donated $30,000 in cash and real property to the Central Tennessee College's emerging medical education program. The brothers funded the College's Medical Department, which evolved over time into the Meharry Medical College. The Salt Wagon image today symbolizes the philanthropy of the Meharry brothers and countless others over the years by the College's loyal supporters.
A Leader in Healthcare Education
Founded in 1876 as the Medical Department of Central Tennessee College, Meharry was the first medical school in the South for African Americans. It was chartered separately in 1915.
Meharry is now the nation's oldest and largest historically black academic health science center dedicated to educating physicians, dentists, researchers, and health policy experts.
A United Methodist Church-related institution, Meharry includes medical, dental, and graduate schools, and is home to the Robert Wood Johnson Center for Health Policy at Meharry Medical College.
In addition to providing quality professional health care education, exemplary patient care, and compassionate community outreach, Meharry Medical College produces the Journal of Health Care for the Poor and Underserved. A 2010 study published in the Annals of Internal Medicine ranked Meharry as one of the nation's top five producers of primary care physicians. Meharry is also a leading producer of African Americans with Ph.Ds. in biomedical sciences.
A Vision for the Future
True to its heritage, Meharry places special emphasis on providing opportunities for people of color, individuals from disadvantaged backgrounds, and others regardless of race or ethnicity. The school focuses on delivering high quality health services and conducting research that fosters the elimination of health disparities.
Meharry receives over 7,000 applications annually for admission to the M.D., D.D.S., M.S.P.H., and Ph.D. programs. Those accepted receive excellent education and training in the health sciences. More than 80 percent of medical and dental alumni return to underserved communities to deliver health care.
As a dedicated health advocate for the Nashville community, especially for those who are uninsured or underinsured and those who have limited access to medical care, Meharry provides an uncompensated $37 million annually in medical and dental care to the local community. Meharry's dedicated health care professionals serve the community through a variety of outreach programs that improve the quality of life for Nashville area residents, one person at a time.