A Legacy that Spans a Century
At the turn of the twentieth century, the legal profession was becoming the exclusive domain of the academic and financial elite. Perceiving the desirability of making an affordable legal education available to working men and women, the Young Men's Christian Association (YMCA) created part-time night law schools in major cities, including Cincinnati, Detroit, Boston, Dallas, Houston, and San Francisco.
Nashville followed suit in 1911 when four graduates of Vanderbilt Law School founded the YMCA Night Law School. These visionary lawyers believed that creating the opportunity to study law part-time would benefit not only the students but also Nashville and Tennessee's legal community. For the school's first fifteen years, its students were awarded law degrees from Cumberland Law School in Lebanon, Tennessee. However, the school was chartered as a non-profit corporation in 1926 and began awarding law degrees in its own name in 1927.
The school became the Nashville School of Law in 1986. In 1991, it moved from its basement classrooms at the downtown YMCA to a new location in the One Hundred Oaks area of Nashville. To accommodate its growth, the school moved to its present quarters in 2005. The school's state-of-the-art classrooms, library, and courtrooms provide students with a professional environment in which to pursue their legal education.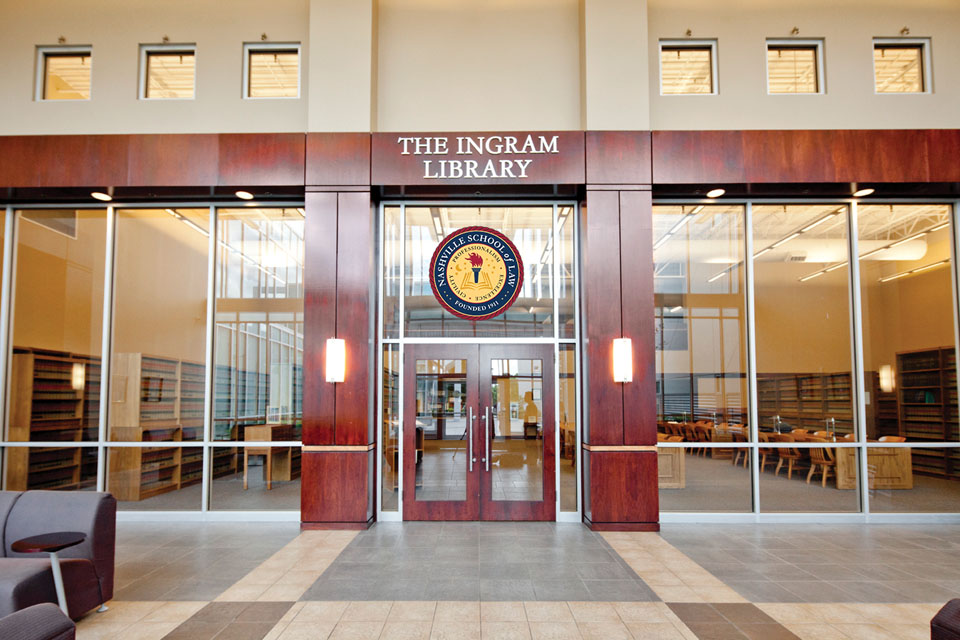 Tenacious Students
More than 400 students of diverse backgrounds attend the school, from recent college graduates in their 20s to persons in their 70s who have achieved success in other professions. The student body includes physicians and nurses, accountants, bankers, police officers, teachers, firefighters, and even a two-time Grammy Award winner. Currently, 44 percent of the students are women and approximately 20 percent are minorities. Approximately 40 percent of the students are married and most have full-time jobs.
Our students share three characteristics – an exceptional work ethic, tenacity, and organization. Their success is built on hard work. For many of them, attending law school started out as a distant dream. They held fast to their dreams as their lives unfolded, and they seized the opportunity to study law when their circumstances permitted. Once they enter law school, they are determined to obtain their law degree and are prepared to make the sacrifices required to attend law school at night while juggling family and work responsibilities.
Talented and Experienced Faculty
The faculty members of the Nashville School of Law are second to none with regard to their legal knowledge and their practical experience in Tennessee's courtrooms, board rooms, and halls of government. The faculty consists of over 50 adjunct professors, including federal judges, state appellate and trial judges, general sessions judges, and juvenile magistrates, who are respected by the bench and bar. The lawyers on the faculty have earned the highest professional accolades locally and nationally not only because of their substantive expertise, but also their professionalism, civility, and commitment to excellence in the practice of law.
Distinguished and Successful Graduates
The school's success is measured by the success of its graduates. Lawyers educated at the Nashville School of Law practice in 93 of Tennessee's 95 counties. In some counties, every practicing lawyer is a Nashville School of Law graduate.
Many graduates have become judges. Today, 92 of the school's graduates are state or local judges. One of our graduates has served as the Chief Justice of the Tennessee Supreme Court. Two others have been elected to the Tennessee Court of Appeals, and another has been elected to the Court of Criminal Appeals. Currently, four of the six criminal court judges in Nashville are Nashville School of Law graduates.
Nashville School of Law graduates have served or are serving in federal, state, and local elective office or as government officials. The school counts two United States Senators and one member of Congress among its graduates, as well as many current and former members of the Tennessee General Assembly or other local legislative bodies. One of our graduates has served as State Treasurer; another has served as a member of the Tennessee Regulatory Authority; and still another is a member of the Tennessee Board of Parole. The current directors of law of two of Tennessee's most populous counties graduated from our school.
Many of our graduates have distinguished themselves in criminal justice and law enforcement, including elected District Attorneys General and District Public Defenders. Scores of assistant district attorneys general and assistant public defenders also graduated from the Nashville School of Law, and many law enforcement officers, including Nashville's Chief of Police, are graduates of the school.
Our graduates have also found success in business. They are counted among Nashville's and Middle Tennessee's top investment bankers and wealth managers, real estate developers, financiers, entrepreneurs, and business owners. The contributions of two of our graduates are so respected that the Nashville Bar Association and the Community Foundation of Middle Tennessee have named their most prestigious community service award after them.
A Bright Future
From its humble beginnings in 1911, the Nashville School of Law is now a vital and integral part of Tennessee's legal community. True to its historic mission, the school continues to offer a high quality, but affordable, legal education to students who are tenacious enough to pursue their studies while fulfilling their other commitments to work and family. Today's leaders of the bench and bar continue to teach tomorrow's lawyers. The Nashville School of Law remains a place where dreams are fulfilled, where lives are changed, and where opportunities are created.